Celebrating your freedom to read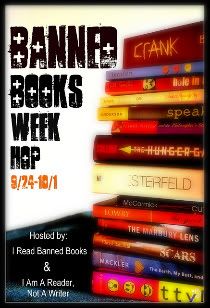 Hosted by I read banned books and I am a reader not a writer
Make sure to stop by and tell these ladies thank you for hosting this event!
What is a banned book:
A banned book is one that has been removed from the shelves of a library, bookstore, or classroom because of its controversial content. A book may be challenged or banned on political, religious, sexual, or social grounds.
To find out if a book you are fond of is on the banned or challenged list you can check
HERE
Giveaway Time
Make sure to check out these blog aslso celebrating ou freedom to read what we want