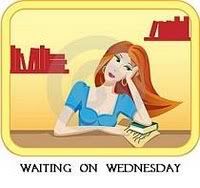 This is a weekly event hosted
by
Breaking The Spine
that
spotlights upcoming releases that
we're eagerly anticipating.
This week's pre-publication "can't-wait-to-read" selection is:
Publish date: October 2010

She was one of the last ones to get pamphleted, she guessed. She was just a little surprised anybody had bothered at all, given the fact that she, Claire Danvers, was small for her age, looked younger than her mid-seventeen-going-hard-on-eighteen years, and tended to blend into the crowd at the best of times. Even though her ultra-fashion-conscious housemate Eve – with all the best possible intentions – had made her sit down in the bathroom and get her brown hair all highlighted so it glowed red in the sun. Still. She just wasn't – noticeable.

What is your "waiting on Pick for the week?